Send a Quote Request
(note: this is not a formal order, just a request for more information. You are under no obligation by completing this form)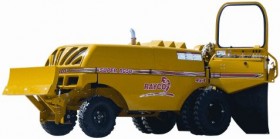 Product Code: HIRE_060121


Super RG 50 Stump Cutter

The Super RG 50 gives you everything you've always wanted from your stump cutter. Never before has the industry seen a backyard stump cutter this powerful, smooth – or capable.

At only 35 inches wide, this compact powerhouse features a smooth and quiet 4-cylinder Deutz diesel engine with 66 horsepower and 50% more torque than the standard RG 50. And you'll always be able to get to the stumps, thanks to full-time 4-wheel drive. The Super RG 50's 4-wheel drive and turf friendly rubber tires provide optimum performance on a wide variety of job condition.

Diesel engine, swing away consule, fully hydraulic, machine width 130cm with dual wheels. (Can be reduced to 89cm for access).
Super RG 50 -

SPEC DATA
Specifications
Weight

3300 lbs

Length

144 inches

Height

45.2 inches

Width

35 inches

w/Dual Wheels

51 inches

Chassis

Electrically welded formed structural steel

Drive Tires

Front (2) 5.70" x 12",' Rear (2) 5.70" x 8"

Ground Drive

Self-propelled hydraulic, variable speed

Engine

Deutz F4M2011, 4 cylinder diesel

Power Rating

66 HP

Fuel

10 gallons

Cutter Wheel

23 x 1-1/2 inches

Cutter Wheel Primary Drive

Hydrostatic

Cutter Wheel Final Drive

Positive drive belt

Super Tooth

24 total

Cutting Depth

18 inches

Cutting Height

30 inches

Cutting Width

68 inches

Safety

Rayco

"Quick Stop" cutter wheel